News Feed
Korea BOESL EPS – TOPIK CBT Online Registration 2019 is Going On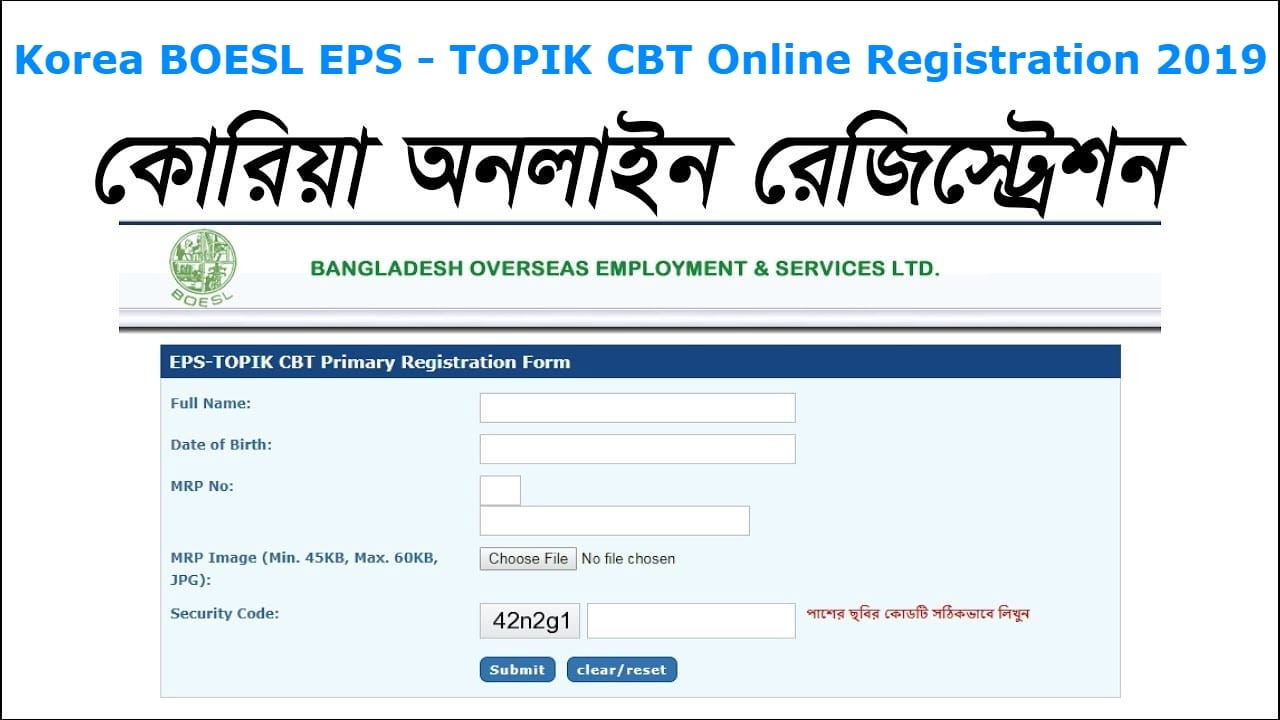 Boesl Registration 2019 – Korea BOESL EPS-TOPIK CBT Online Registration 2019. If you want to get a chance, firstly you need to complete your Registration Online. Eps.boesl.org.bd is the official Website where you will get the online registration process of Korea BOESL EPS-TOPIK CBT. 2019 Session Online Registration isn't started yet. It will be started very soon. Most probably, It will start on March First Week. After the announcement, you will get complete information on the official Website of Korea BOESL Bangladesh Official Website and also on this Website. Registration Process, Lottery Result, and other necessary information are available here.
HRD Korea Bangladesh Employment Contract & Requirements:
Who is eligible for the HRD Korea Bangladesh Employment? According to this, Let's we are providing it's a basic and deep concept. The Process will be completed through the Authority like Visa Advice, N.O.C and Work Permit. They will grand the Permission to the desired section.
Some people don't know the Facilities and benefits of HRD Korea Bangladesh Employment Contract. So, they can now read this from the below.
Benefits/Facilities of HRD Korea Bangladesh Employment Contract:
Each person will get about Wages/Salary information, Working Hour information
Overtime Allowance
Medical & Travelling Expenses
Free Food and Accommodation (Condition Applicable)
Weekly and Annual Holidays available
Any Action by the Authority or Worker must be taken by the Law of Labour and also as per Agreement.
What are the eligibility requirements for Korea EPS TOPIK CBT Registration 2019?
Some Conditions (Requirements) must need to have for online Application. If you don't have these Requirements, you won't eligible. So, Read the Eligibility information and finally submit your Application.
Firstly, The Applicant must have to be skilled in the Korean Language.
There is a Birth Date (Year) Restriction for the Applicant, Kindly read it clearly from the Circular.
Applicants haven't been a Criminal. It means no Applicant will eligible with the police case record.
The Applicant must need to pay the Application Fee Properly and registered by Machine Readable Passport (MRP).
Applicant must need to input all necessary information(s) properly including their Full Name, Date of Birth (DoB), Photo, Passport Number, Contact Mobile Number and Scan Copy of Money Receipt/Pay Order.
BOESL Registration Selection Procedure:
It is another important part of HRD Korea Bangladesh Employment Contract. Where I will get my BOESL Selection news? The Authority will arrange any Text/Trade test to prove the applicant identity or justify the qualification of the applicant. All of the Applicant can get data from the below processes or sources:
Online Advertisements for Vacancies
Press/Newspaper Advertisement
Blog/Website Advertisement
BOESL Job Seeker Data Bank
Notice Board of Any Organization and
From any Relevant Department
If everything is Ok and looking great, kindly Visit https://eps.boesl.org.bd/ to submit your Application. We have already added all necessary information, Step by Step Guides (on Circular) and other information's. If any more information requires, kindly contact us any time via comment box to get the proper solution from our end.
What is the Boesl New website link?
Ans: boesl.
gov

.bd

And Old URL: boesl.org.bd
EPS-TOPIK CBT Online Registration Result 2019:
EPS-TOPIK CBT Online Registration Result 2019 isn't available right now. There is no announcement for the Date of Korea Bangladesh Employment Contract 2019. If the Lottery Result 2019 of HRD Korea Bangladesh Publish, you will get the Result on this post.
Korean Lottery Result for Bangladesh 2019 Date, What need to do after the Result, Final Registration Schedule and all other Data will be available here for you shortly. We will add these data very early.