News Feed
Comilla Board JSC Scholarship Result 2019 has published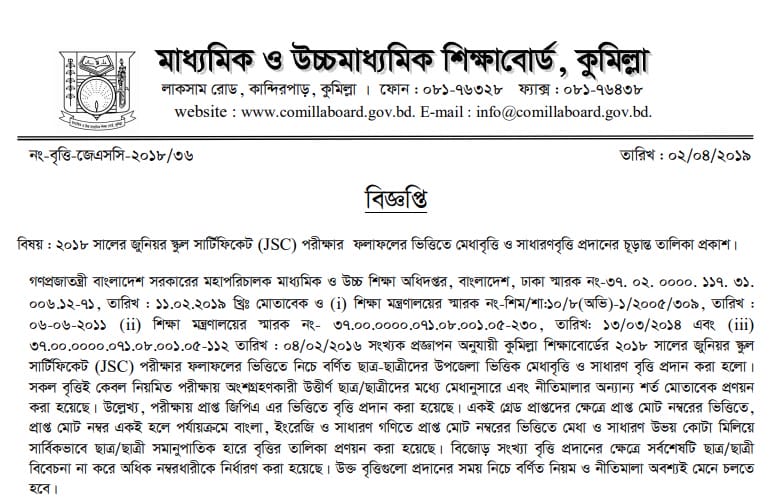 Comilla Board JSC Scholarship Result 2019 has published. All the JSC passed Students under Comilla Education Board; Bangladesh can check their JSC Scholarship Result at Online. The Board has published the Result as PDF File on the Board Website. You can download the JSC Scholarship Result 2019 Comilla Board PDF File from this Website and also from the Official Website of Comilla Board.
Anyone can download the PDF Result Sheet on your Mobile Phone or Laptop. After downloading, Open the File and search your JSC Roll Number, Student Name and Institute Name. You can Download the PDF File of Scholarship Result from here.
Comilla Board has informed that the General Scholarship Candidates will get 300 TK per Month and 350 TK per year and Talent pool Candidates will get 450 TK Monthly and 560 TK per year. The Selected Candidates will receive the Scholarship 2 years (Class 9 & Class 10).
Comilla Board also published news where available: Selected Candidates will get Full Free Tuition Fee on their Exciting Institute. If the Institute asks to pay any Tuition Fee or Monthly Fee from the Selected JSC Scholarship candidates, will break government Law.
Now, Check Your Comilla Education Board JSC Scholarship Result 2019 (JSC Exam 2018). Visit the Comilla Board Official Website and check the latest published Notice. You will see the updates of Comilla Education Board which may important or necessary to you.