Check Now SSC Result 2019 by SMS – Education Board Result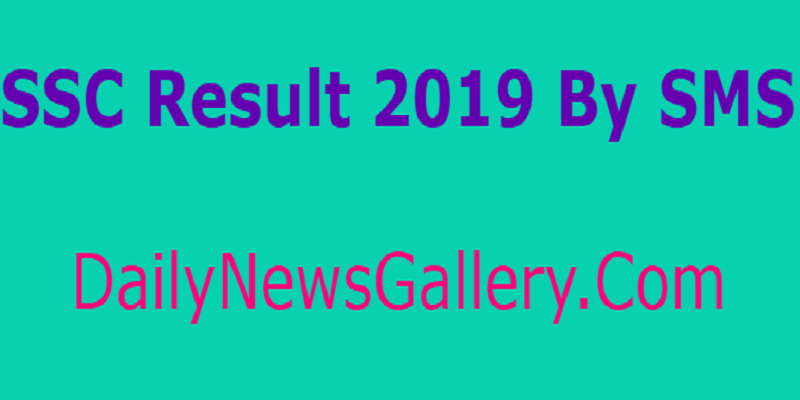 Mobile SMS system is a big alternative of Online for checking any Exam Result in Bangladesh. Currently, SSC Result 2019 is trending. The entire SSC Examine, guardians and Family member are feeling excited to know the Result. Ministry of Education publishes the Result at Online. Immediately, maximum people check their Result by online from the Official Result portal of Education Board Bangladesh.
Some people depend on other people to know their Result. The main reason they can't check the Result from Online or they don't have an Internet Device or Internet Connection. So, we are making this post to help these people. They can now check their SSC Result 2019 by SMS with our smart guideline.
How to Check SSC Result 2019 by SMS?
It is a common question for the Examine and guardians. Its big opportunity is any mobile phone support to check the Result by using this system. The summery of the SMS Process of SSC Result 2019:
At first, You need to wait for publishing SSC Result by Education Board Bangladesh. You can keep ready the SMS on your Mobile. When the Authority will publish the Result successfully, you can send your message to the destination number. We hope your Result will be received successfully instantly. Sometimes it may take fewer or longer times. We've described it on the Condition section.
SSC Result 2019 official Mobile SMS Format:
According to check the SSC Result 2019 by Mobile SMS, You need to send the Correct Message. Here, we are providing the Official Mobile SMS Format for you. While you will send this message, you will get your SSC Result quickly.
SSC <space> Board <space> Roll <space> Year
It is the official Mobile SMS Format of SSC Result 2019. All Education Board SSC Candidates can use this Format to check their Result by SMS. What is the receiver number? Receiver number means you need to send the message to 16222. It is the Education Portal of Teletalk Bangladesh Limited. Here,
SSC = Examination Name. You can use this to check all General Board SSC Result.
Board = First Three Letters of your Education Board Name. For Example, DHA for Dhaka Education Board or JES for Jessore Education Board.
Roll = Six Digits of SSC Roll Number which available on the Student Admit Card.
Year = Exam year of SSC. Here, 2019 is your SSC Exam Year.
Board Wise SSC Result 2019 SMS Format is also available on this post. So, you will get it later. Now, read the conditions of Mobile SMS Format for checking SSC Result 2019 Quickly.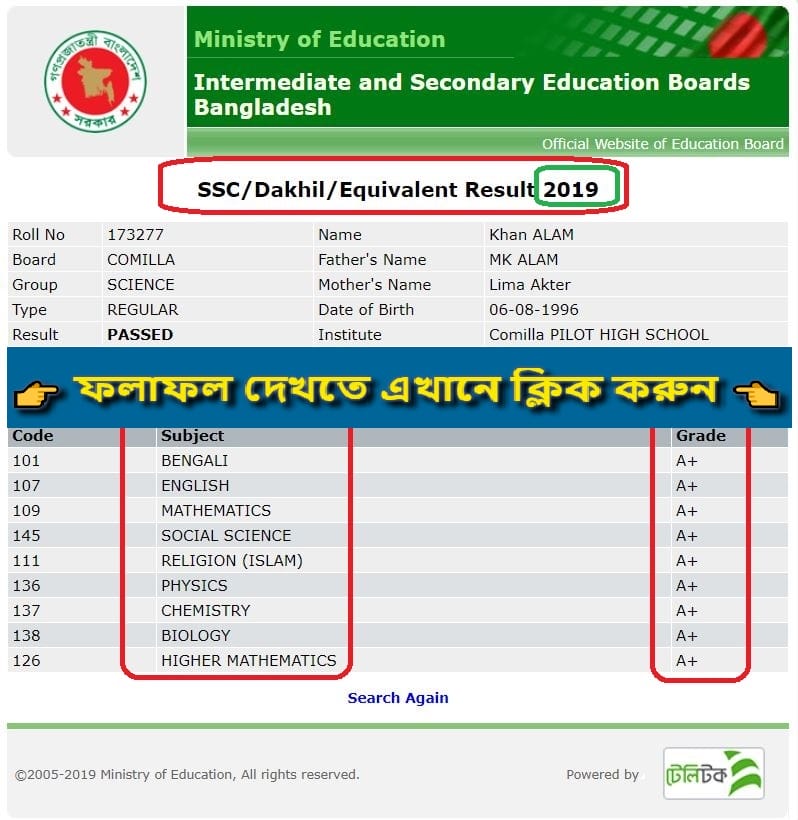 General Conditions for Checking SSC Result 2019 by SMS:
Mobile SMS System is easier than Online and all other systems. As per getting the result faster, people follow all methods. With our own Experience, we have seen that The people who can check their Result Online, also send Mobile SMS. The Interested matter is they send the Message first before trying to check the Result online.
Some people try to check their Result Online First. If they can't get the Result from there, they send the Message and wait for their Result. Again they try to check Result from Online. We have found some people who only follow the Mobile SMS Format to check their Result.
That's enough! If you want to check your SSC Result 2019 by SMS, Kindly follow the below Instruction and check your Result early.
You (The user) must send the Message correctly.
The user must send the Message only after publishing the Result Online.
Make sure that you have more than 2.44 TK Primary Account Balance (Main Account Balance).
SMS to 16222 only response with the Result.
Naturally, you will receive your Result Instantly. But, Sometimes, the Server response lately as per too many requests generate at the same time.
SMS from Teletalk Number will get the Result faster from all other Operators.
Why SMS System Important to check SSC Result 2019?
In Bangladesh, Some locations don't have Broadband Internet Connection. So, Internet Service of these Locations carries a high cost. In other words, Most of the People of Bangladesh don't have a Smartphone. So, they can't check their Result Online. Mobile SMS System will help them check their Result.
On the other hand, too many fake Blog or Websites are available on the Internet. They Rank higher on the Primary page of Google. So, while someone will search SSC Result 2019 on the Google Search Engine or Other Search Engine, they find these Websites. While people Visit these Websites, they can't get their Result from these Websites. So, the maximum time people can't get their Result on time for this reason.
If they follow the Mobile SMS System, they will get their Result quickly from their end. So, why people can't send the message the first time? We highly recommend you to type your Result Message correctly and send it immediately while the Result will be published.
Board Wise SSC Result 2019 by SMS:
Board Wise SMS Format is Different. The Main Different is the First Three Letters of Education Board Name. If you know this, you can check all Board SSC Result 2019.
Dhaka Board SSC Result Checking SMS Format: SSC DHA 123456 2019
Chittagong Board SMS Format: SSC CHI 123456 2019
Barisal Board SMS Format: SSC BAR 123456 2019
Rajshahi Board SMS Format: SSC RAJ 123456 2019
Jessore Board SMS Format: SSC JES 123456 2019
Comilla Board SMS Format: SSC COM 123456 2019
Sylhet Board SMS Format: SSC SYL 123456 2019
Dinajpur Board SMS Format: SSC DIN 123456 2019
Here, we have used 123456 as Default Words. It is the Example of SSC Roll Number. Just replace 123456 to your Original SSC Roll number. Finally, send the message to 16222.
In the Final Word, We want to tell you that, a large number of people send the message in the wrong Format. No result will deliver for Wrong SMS Format. Please try again to send the Message correctly. Every Correct or Wrong SMS, you will be charged 2.44 TK. You read our other Article about SSC Result. We hope you are really interested to read these content for a better experience.