News Feed
SSC result 2019 will be published mobile SMS at 2 PM 6, May
On the 06 May 2019, Teletalk Bangladesh Limited will publish the Result on the Mobile SMS system. All mobile customers can send a message to check the SSC Result 2019 from the mobile number. This system will be charged 2.44 TK per SMS.
A customer can send unlimited SMS from a single Mobile phone or multiple. All of the SMS will be delivered to 16222 by Teletalk and the Result will be distributed early from the system.
On The Others Hand, You Can check Your SSC Result 2019 by Online. You Can Search Result from Online. More Details are Found on Exam Result BD of Secondary School Certificate Exam. Students, Guardian, and Anyone can Check Result from Online if they know the Details of SSC Examinees.
If a customer will send a message with the official SMS Format, he/she will get the result early. The customer, who will send their message before publishing the result officially, won't receive their result. They will receive an instant reply from the server that the SSC result in 2019 isn't published yet. It will be published after 2 PM.
Server: 1
Server: 2
[popup_web url="https://results-4.examresult247.com/" img="https://ekusherbangladesh.com.bd/wp-content/uploads/2019/05/SSC-RESULT-2019.png"]
Server: 3
Server: 4
[popup_web url="https://proxy.examresult247.com/ebr/app/stud/" img="https://ekusherbangladesh.com.bd/wp-content/uploads/2019/05/SSC-RESULT-2019-E-Board-Result.png"]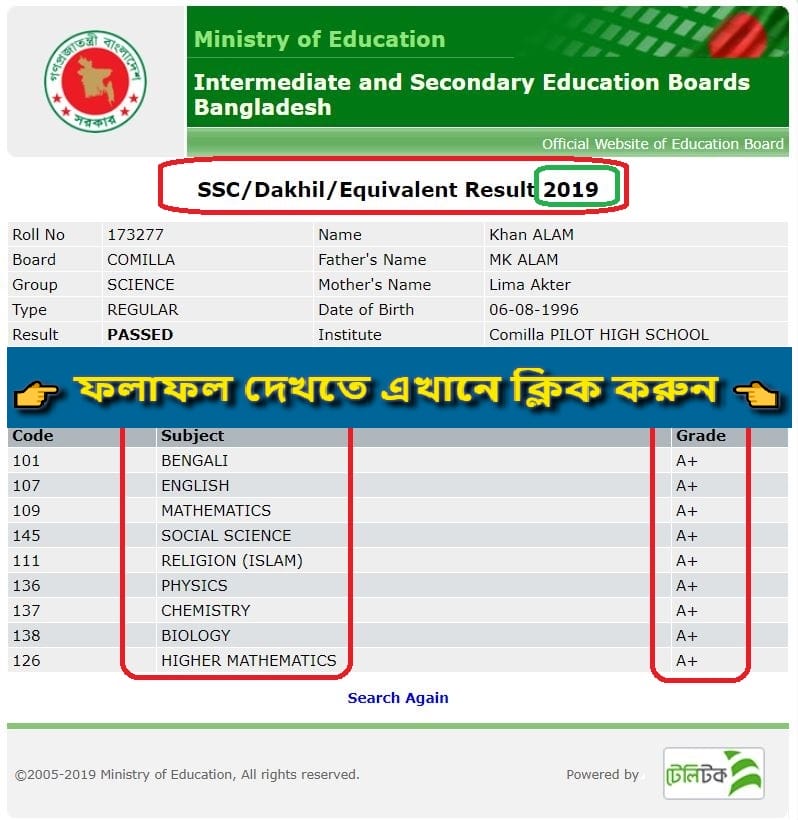 According to check the SSC Results and equivalent result from SMS, the candidates will get their result on the following SMS system.
SSC <> Board <> Roll <> 2019
This message will publish the result while someone will send it 16222. The charge of the SMS will be deducted from the customer account. So, keep sufficient balance and check SSC Result 2019 by SMS quickly.