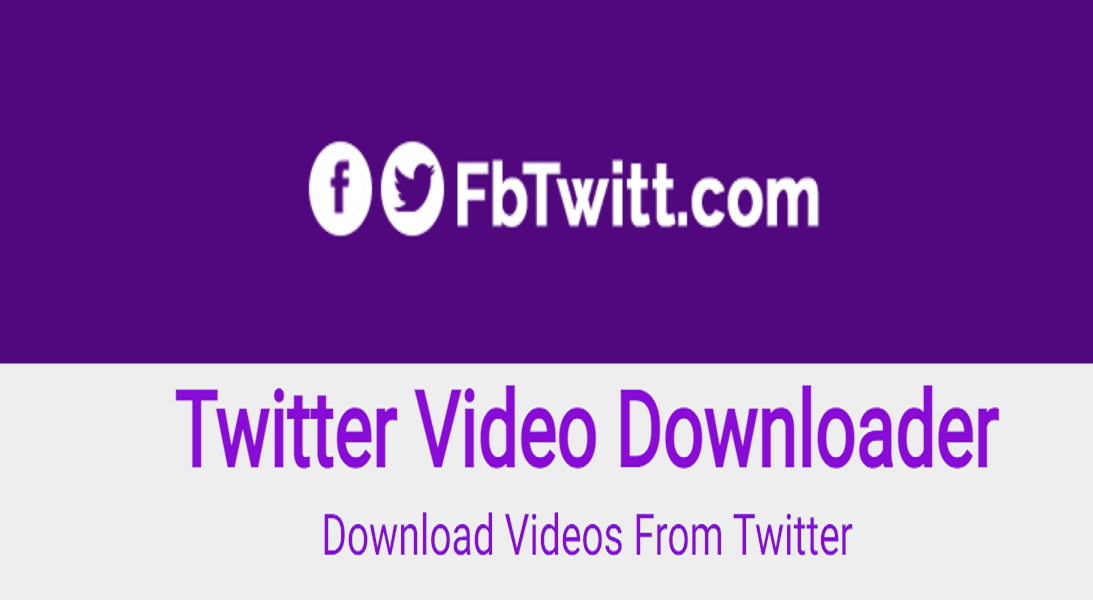 Twitter Video Downloaders: From 2006, when Twitter was founded, until now, Twitter changed so much. It used to be a platform the share feelings and thoughts, but now all kinds of online content can be found on Twitter. Even with its transformation, Twitter does not allow users to download videos on it yet. Fortunately, there are many video downloader websites specifically catered to downloading Twitter videos that users might want to download in any resolution.
With so many downloader websites out there, how do you know which website suits your requirements? In this article, we will delve into each of the best video downloader websites catered to Twitter videos.
5 Twitter Video Downloader
1.) Fbtwitt.com
Free
It can be used with Facebook and Twitter videos/GIF
Available as a Chrome extension
Safe to use.
Another simple to-use Twitter video downloader website would be fbtwitt.com. What's unique about this website is it lets you download videos from Facebook and Twitter. The same procedures also apply when you want to download videos from the two most popular social media platforms. Videos downloaded from Facebook can be in either mp3 or mp4 format.
Fbtwitt.com can also be used on a variety of devices besides a desktop/laptop computer. You also don't need to install it to use it. Fbtwitt is also generally safe for video downloading.
Fbtwitt.com is also available as a Chrome extension. As an extension, there's no need to go to the website to get your download job done since all it takes is a single click. Best of all, it's free.
2.) SaveTweetVid
Free
Works on any devices
User friendly
It saves mp4, mp3, and GIF types of files
SaveTweetVid is really simple to use and free to download so you can save a favorite video or GIF found on Twitter. SaveTweetVid works similarly to other websites of its kind by following the same equation of downloading media.
First, open the link to a Twitter video or GIF, copy the link, and paste it. Afterward, it'll quickly be available to you.
Besides being simple to use and free, SaveTweetVid doesn't have any malware or adware, which makes this website stand out.
3.) Twitter Video Downloader
No adware
It's compatible with multiple operating systems and smartphone devices.
Simple to use
Copy and paste the download feature
When it comes to no-frills video downloaders, Twitter Video Downloader takes the prize. If you stumble across a video or GIF that you like on Twitter to be viewed on your device offline, then just open this website and copy and paste the URL into the downloader. Once you hit download, the GIF or video is now available offline. If you are looking for a downloader that has more advanced features, then this website is not for you.
4.) sssTwitter
Browser extension for one-click download
Compatible with most devices.
You can choose the video quality that you want to download.
Free
Most downloader websites offer their users the usual formula of copying and pasting URLs to their dashboards. For sssTwitter, it offers more than that.
One of the unique features of this website is the ability of users to install the extension on their browser. To download a video via the browser extension, simply type "sss" before the "HTTPS" of the URL. Afterward, it will have a download button below any video on Twitter. This method saves you from opening too many tabs to download your desired video.
5.) TWDOWN.net
Compatible with most operating systems and smartphone devices.
Free
Faster download time versus its competitors
Video to mp3 conversion
Are you short on time and do you need to download a video from Twitter as soon as possible? Then this website is for you. TWDOWN's unique advantage comes from its fast download speed because it has very potent servers. Just like any other downloader website, TWDOWN also offers the usual "copy and paste URL into its dashboard" method.
Besides its fast download speed, another amazing feature it offers would be its ability to convert downloaded videos into mp3, in case you only want the sound effects of the video. Finally, TWDOWN is also free and in constant updates.
To conclude, all of these websites are simple to use due to their usual approach to video downloading. For versatility and ease of access, fbtwitt.com takes a gold medal. For download speeds, then TWDOWN.net is clearly the winner in this regard.