News Feed
20 TK POF Lottery Draw Result 2019 will publish on 13 April 2019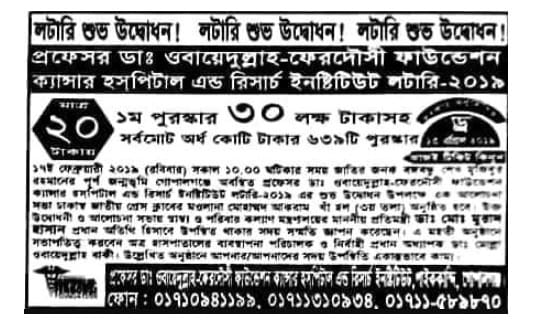 20 TK POF Lottery Draw Result 2019 will publish on 13 April 2019 (Saturday). The Authority has announced the Lottery Result Daye of POF Officially. All the people who Purchased 20 TK Lottery Hard Copy, Via Mobile Account Balance or from bKash can check their Lottery Draw Result on this Website. We will upload the Result of POF Lottery very soon after publishing the Draw Result Officially.
Professor (Dr.) Obaidullah-Ferdousi Foundation Cancer Hospital and Research Institute will arrange the Draw on 13 February 2019. It will broadcast Live from the Draw. The Authority has sold 20 TK Lottery Ticket from February 17 to April 4, 2019. During this Period, too many users purchased Lottery Ticket.
POF Lottery Result Publish Date 2019:
We have already informed you that the Lottery Result of PDF February – April will publish on 13 April 2019. On this Day, The Authority will publish the Draw Result. You can Check the Result Online, PDF File and also on the Daily Newspaper. Winner Ticket Number will publish on the Draw.
Professor (Dr.) Obaidullah-Ferdousi Foundation (POF) Lottery Result Prize 2019:
1st Prize: Cash 30 Lac Taka (1 Prize)
2nd Prize: Cash 5 Lac Taka (1 Prize)
3rd Prize: Cash 1 Lac Taka (1 Prize)
4th Prize: Cash 50 Thousand Taka (2 Prize)
5th Prize: Cash 10 Thousand Taka (4 Prize)
6th Prize: Cash 2 Thousand Taka (30 Prize)
We will publish the POF 20 TK Lottery Draw Result 2019 very soon on this Website. Kindly visit us once after publishing the Result. You can check the Result quickly.