POF Lottery Result 2019 has Published
POF Lottery Result 2019 will publish tomorrow at 10:00 AM. This is the official Announcement by the Authority of POF Foundation Cancer Hospital and Research Institute, Bangladesh. The Lottery Draw Date was 13 April 2019. Unfortunately, the Authority has changed the Draw Date of this Lottery. The New Date is 27 April 2019. Most of the People don't know the Schedule for releasing the Lottery Draw Result.
As per the Telephonic conversation with the Lottery Authority, they inform Daily News Gallery that the Draw of 20 TK POF Foundation Lottery will hold at 10:00 AM of 27 April 2019 in a Hotel of Dhaka, Bangladesh.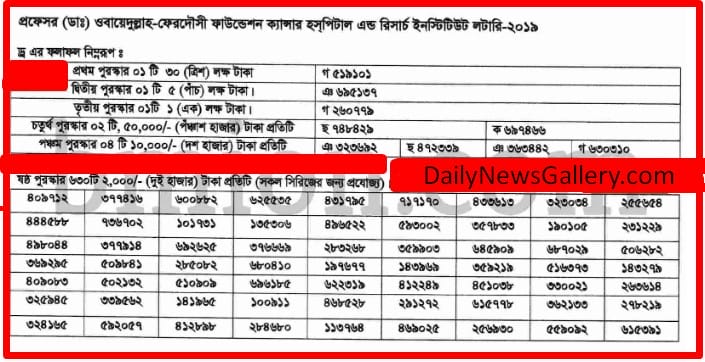 We have also asked them the Live Broadcasting of this Lottery Draw. Unfortunately, there is no Live Broadcasting TV Channel available. They are asked some TV channel but those Media (TV Channel) asked them paid 7/8 Lakh TK for the Live Broadcasting.
POF Lottery 2019 Draw Result 2019 will publish immediately on the Daily Newspaper, Social Media Website and also some Blog. So, don't worry about the Result of this Lottery Draw.
We will publish the POF Winner List 2019 Immediately on this News Portal while the Authority will publish the Draw Result.