News Feed
Pakistan Premier League PSL Point Table has updated on 09 March 2019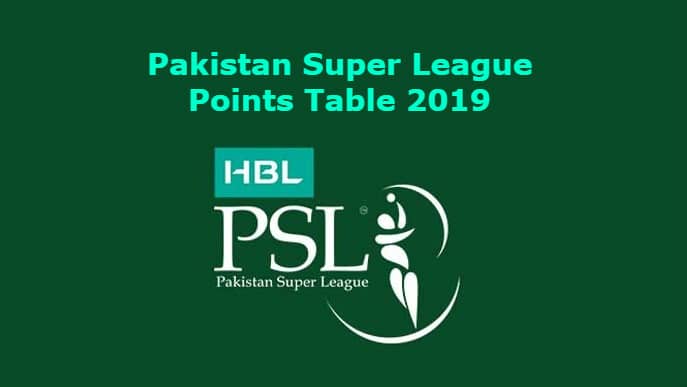 Pakistan Premier League PSL Point Table has updated on 09 March 2019 after completing the Match Number 27. On the last match Between Islamabad United and Lahore Qalandars. Lahore Qalandars won the toss and elected to field. On the First Innings, Islamabad United Scored 238 Runs for 3 Wickets in the 20 over.
In the Second Inning, Lahore Qalandars scored 189/9. It is the First Match of Pakistan Super League at Karachi, March 9, 2019. 26th Match was held on UAE. After a long time, Pakistan Super League Match is on Pakistan. This time, Most of the International Cricketers visited Pakistan to Play the PSL 2019.Islamabad United Win by 49 Runs.
Here is the Latest Point table of PSL 2019 after completing 27th Match (on 9th March 2019). We have updated the Image version of Point Table here and you are welcome to see the Full Point Table of PSL.

Some Records of the Last Played Match (Islamabad United Vs Lahore Qalandars):
1) Highest PSL score of all time
2) Most PSL sixes (16) in an innings
3) Joint-fastest PSL half-century (Asif Ali, 17 balls)
4) Highest ever total in Karachi
5) The most expensive spell in PSL (Shaheen Afridi, 62 runs)
6) Least number of twos in completed PSL innings (just one!)
7 More Match available in the Pakistan Super League 2019. All of these matches will hold on Karachi. Here is the Schedule of the next 7 Match of PSL 2019.
10/3 (28th Match, (D/N) at Karachi) KK Vs QG
11/3 (29th Match, (D/N) at Karachi) LQ Vs MS
11/3 (30th Match, (N) at Karachi), KK Vs PZ
13/3 (Qualifier, (N) at Karachi), TBA Vs TBA
14/3 (Eliminator 1, (N) at Karachi), TBA Vs TBA
15/38:00 PM (Eliminator 2, (N) at Karachi), TBA Vs TBA
17/38:00 PM (Final, (N) at Karachi), TBA Vs TBA