Eid Mubarak Bangla SMS 2019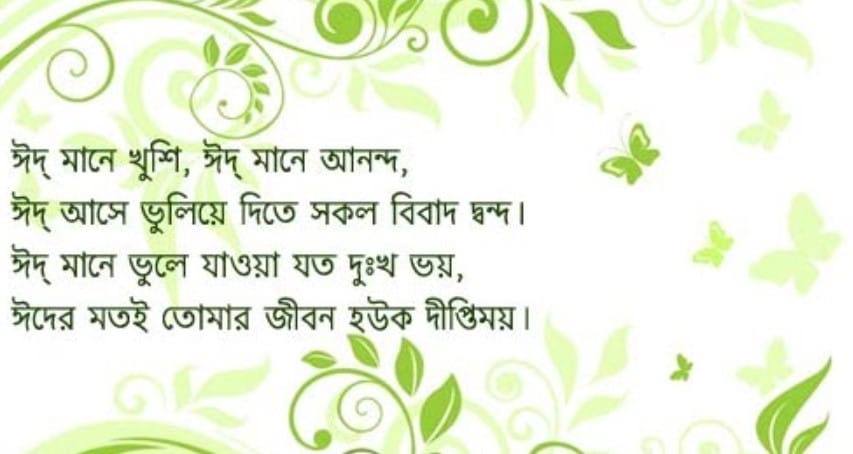 Eid Mubarak (Eid Ul Fitr) Bangla SMS 2019 with Greetings can be downloaded. Are you looking for the Bangla Eid SMS 2019? All the people from Bangladesh, Kolkata (India) and some other location will wish their favorite person like Friends and family members. Eid Bangla SMS for Girlfriend/Wife, Boyfriend/Husband, and Romantic Eid Bangla SMS for all lovers. 
The girl who has multiple Boyfriends can send different Eid wishes with Bangla Eid SMS 2019. We are helping these girls by providing different Eid ul Fitr Bangla SMS 2019.
Latest Eid Mubarak Bangla SMS 2019:
rongdhonu ase ronger tane,
subash ase fuler tane,
bondhu ase bondhutter tane,
mon chole jay moner tane,
Eid ase khusir tane,
Sonali sokal, rodela dupur, poronto bikel,
godhuli sondha, chadni rat, sob ronge rangiye thak,
apnar sarata bochor, Ei kamonay janai
Shuvo rojoni, shuvo din,
Rat perolei eider din.
Upovog korbe saradin,
Eid pabe na protidin,
Dawat roilo eider din.
Bondhu Eid aste 1 din baki…….
Eto khushi kothay rakhi……
Bolata onek easy……
Eider kaje sobai busy…….
Ekti bochor ghure asbe sei din……
Eider khushi biliye deyar prostuti nin……
Onekei busy eider kaje…..
Anondota sobar maje……
Ai sms, jar kache jabi, jake pabi, takei amar salam dibi,
lal golaper valobasha diye Eider dawat janabi, Ar
Misty Kore bolbi
Amar Bari ojana dipe,
Tumar Bari koi?
Asbe Kinto Eider Din,
Hok problem Jotoi.
Notun Diner Notun Saje,
Eso amar Bari ..
Sms Kore Address Dio,
Pathiye dibo gari !!
Eider Suvecca "Rasi Rasi"
Monta Rakho "Hasi Khusi"
Gustho Kheo "Besi Besi"
Miss korona "Goru Khasi"
Dawat Dilam "Amar Bari"
Chole Asbe TaraTari.