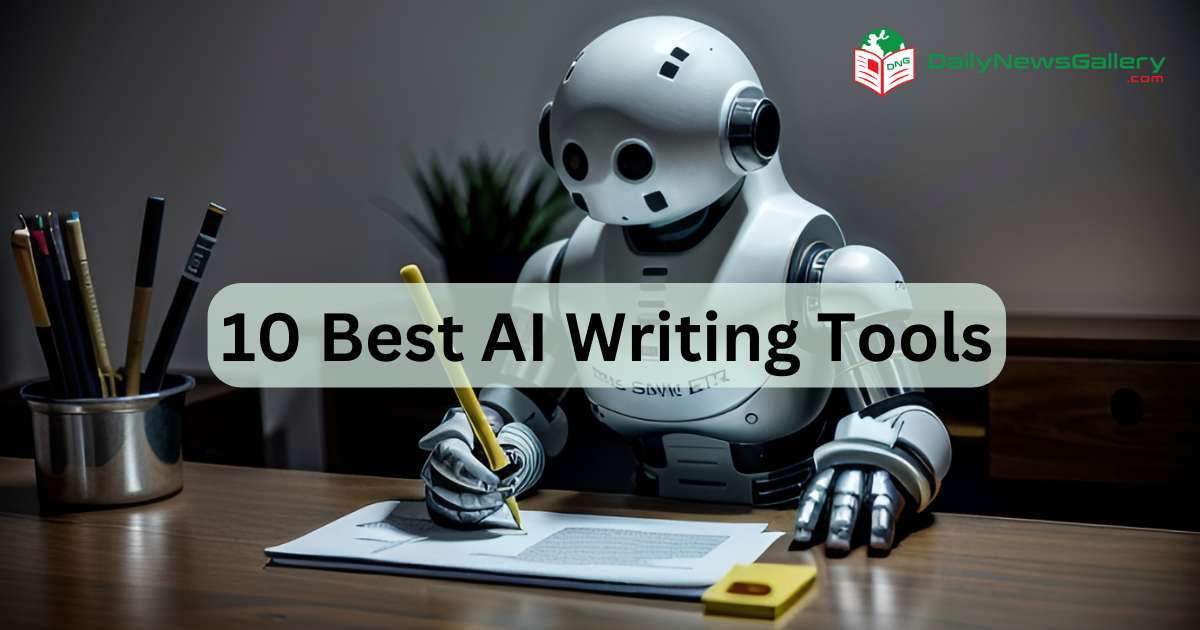 The digital world is always hungry for fresh and engaging content. As the pressure to produce high-quality material mounts, businesses and individual creators are turning to innovative solutions.
Among these, AI writing tools have emerged as game-changers. By leveraging artificial intelligence, these tools offer a new approach to content creation, making the process more efficient and tailored.
Dive into this guide as we unveil the top 10 AI writing tools that are setting new standards in the realm of digital content.
Best AI Writing Tools
Now we are going to share some of the best AI tools below. There are so many AI tools available for writing but these are the best ones we found.
If you are new to the blogging field and want to start a blog with AI you should check the guide on How to Start Blogging.
Here are the 10 best AI content writing tools,
Jasper.ai
Copy.ai
GrowthBar
Copysmith
Hypotenuse AI
Rytr
Writesonic
Surfer SEO
Frase
QuillBot
AI Writing Tools Pricing
Here is the pricing table for those tools. But the price may update anytime, so make sure you visit the official sites and see the updated price.
| Tool | Pricing (Monthly) |
| --- | --- |
| Jasper.ai | Starts at $59 |
| Copy.ai | Starts at $49 |
| GrowthBar | Starts at $50 (or $29 when billed annually) |
| Copysmith | Starts at $19 |
| Hypotenuse AI | Starts at $29 |
| Rytr | Starts at $9 |
| Writesonic | Starts at $19 |
| Surfer SEO | Starts at $59 (or $49 when billed annually) |
| Frase | Starts at $15 |
| QuillBot | Starts at $10 |
1. Jasper.ai
Jasper.ai stands as a beacon in the AI writing tools sector, offering a comprehensive solution that caters to businesses of all sizes. It is particularly noted for its two prominent features: Jasper Chat and Boss Mode.
Jasper Chat assists in brainstorming blog post ideas, creating Facebook ads, and even rewording emails, making it a versatile tool in content creation. It supports nearly 30 languages, enhancing its accessibility.
On the other hand, Boss Mode is your go-to for crafting long-form articles, social media posts, and even books. It integrates seamlessly with platforms like Surfer, offering Google-optimized content.
The pricing starts at $59 per month, post a free five-day trial, making it a valuable asset for small and medium-sized businesses.
2. Copy.ai
Copy.ai emerges as a potent writing assistant, especially if you are not restricted by budget constraints. It distinguishes itself by not capping the number of words you can generate, a feature that is a boon for digital marketers who need to produce content at scale.
Whether you are crafting Pinterest descriptions, TikTok scripts, or listicles, Copy.ai is up to the task. It also excels in repurposing content across various channels. The pricing structure is flexible, with plans starting at $49 per month.
3. GrowthBar
GrowthBar is hailed as one of the best AI writing tools for SEO enthusiasts. It promises to expedite the process of creating long-form content, targeting individuals who wish to save time on writing.
The tool offers drag-and-drop features, transforming your outline into a full-fledged blog post effortlessly. It also provides keyword suggestions to simplify the writing process further.
The pricing is quite reasonable, starting at about $50 per month, with a seven-day money-back guarantee to boot.
4. Copysmith
If you are an eCommerce brand looking for a reliable AI writing tool, Copysmith might be your answer. It focuses predominantly on crafting product descriptions, even assisting with image selection.
The bulk generation feature is a standout, allowing you to add a spreadsheet with different SKUs, and the tool takes care of the rest.
It integrates with leading eCommerce platforms like WooCommerce and Shopify, streamlining the process further. Pricing starts at $19 per month, following a free seven-day trial.
5. Hypotenuse AI
Hypotenuse AI specializes in generating SEO-friendly product descriptions and aiding in blog writing. It promises to halve the time taken to draft the first version of your post.
However, it emphasizes that the output is a first draft, requiring human intervention for refinement. Despite this, it does a commendable job in crafting the introduction, FAQs section, and conclusion. The pricing starts at $29 per month, post a free seven-day trial.
6. Rytr
Rytr is an affordable option for beginners, offering a plethora of tools to assist in writing various types of texts. It is user-friendly, yet packed with features, including a built-in plagiarism checker and a native SEO toolkit.
It also offers project management features, making it a valuable tool for digital marketing agencies. The pricing is budget-friendly, starting at $9 per month.
7. Writesonic
Writesonic is often referred to as the "Canva for writing", offering a unique pricing approach based on the quality of content you seek. It is a cost-effective solution, providing nearly 100 writing tools and a deep understanding of content that resonates with audiences. The pricing starts at $19 per month, making it an affordable option for many.
8. Surfer SEO
Surfer SEO is a leading tool in the SEO domain, offering products that enhance your content's SEO. It provides a free seven-day trial, giving you a glimpse of its capabilities in improving your SEO strategy with AI-generated tasks. The pricing starts at $59 per month, offering a comprehensive solution for your SEO needs.
9. Frase
Frase competes closely with Surfer SEO, offering a unique content scoring system and a range of AI writing tools. It stands out for its user-friendly approach to content scoring, making it easier to understand and implement. The pricing is quite affordable, starting at just $15 per month.
10. QuillBot
QuillBot takes a slightly different approach, focusing on helping users paraphrase existing content. It acts as a co-writer, assisting in faster writing by completing sentences logically based on previous inputs.
It also offers citation tools, which are particularly handy for academic writing. The pricing starts at a mere $10 per month, making it an accessible tool for many.
FAQ
What are AI writing tools?

AI writing tools are software solutions that leverage artificial intelligence to assist users in generating, enhancing, or streamlining written content.

How do AI writing tools differ from traditional writing software?

Unlike traditional writing software that primarily focuses on grammar and spell checks, AI writing tools can generate content, offer style suggestions, and even adapt to a user's writing tone.

Are AI writing tools expensive?

The cost varies. Some tools offer free versions with limited features, while premium versions can range from affordable to more expensive, depending on the functionalities provided.

Can AI writing tools replace human writers?

While AI writing tools are advanced, they're designed to assist rather than replace human writers. They can generate content and offer suggestions, but the human touch is essential for nuanced and context-aware writing.

Is the content generated by AI writing tools plagiarism-free?

Most AI writing tools claim to produce unique content, but it's always a good practice to run any AI-generated content through a plagiarism checker to ensure originality.

How accurate are AI writing tools?

While AI writing tools are becoming increasingly sophisticated, they might not always be perfect. It's essential to review and edit the content they produce.

Can I use AI writing tools for academic or formal writing?

Yes, many AI writing tools offer features tailored for academic or formal writing, including citation generators and research assistance. However, always review the content for accuracy.

Do AI writing tools work in multiple languages?

Many AI writing tools support multiple languages, but the range and accuracy might vary from one tool to another.

Is my data safe with AI writing tools?

Reputable AI writing tools prioritize user data privacy and security. However, always check their privacy policies and user agreements before using the tool.

Can AI writing tools help improve my writing skills?
Yes, by offering real-time suggestions and corrections, AI writing tools can provide insights into common mistakes and help users improve their writing over time.
AI writing tools are here to revolutionize the content creation landscape. They serve as virtual assistants, helping marketers save time and streamline the content production process.
By choosing the right tool, you can ensure consistent delivery of high-quality content, enhancing your marketing efforts manifold.