How to Get Canva Pro for Free (2 Steps)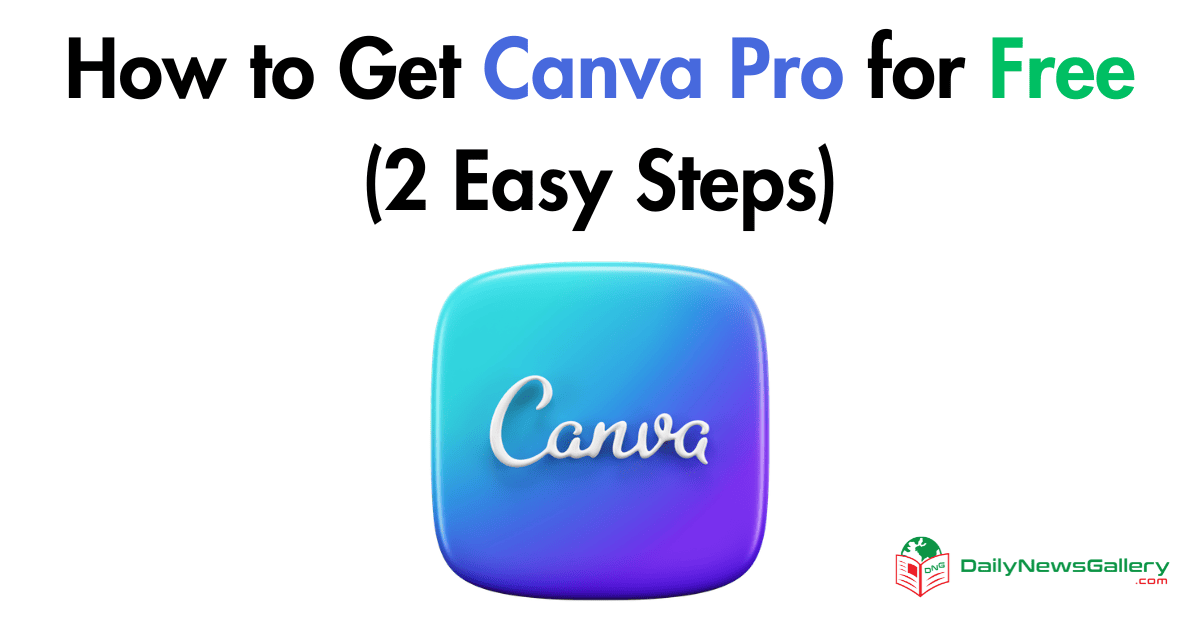 You are here means you are searching for ways to use canva pro for free. Guess what, i have found 2 ways to do that. I will share those below.
In today's visually-driven world, captivating graphics are the game-changer. From bloggers to entrepreneurs, everyone's turning to one platform for their design needs: Canva.
But what makes Canva stand out, and why is everyone raving about its premium features? Dive in, and let's uncover the magic behind it.
What is Canva?

Canva, in essence, is a digital design tool that has revolutionized the way we approach graphic creation. Born out of the need to simplify design for everyone, Canva offers an intuitive platform where users can craft everything from eye-catching social media graphics to professional presentations.
Its user-friendly interface, combined with a vast library of templates, images, and fonts, ensures that even those without a design background can produce visuals that rival professionally crafted designs.
Beyond its basic offerings, Canva's premium version, known as Canva Pro, extends its capabilities, providing users with advanced features and a broader range of assets.
Whether you're a business owner aiming to enhance your brand's visual identity or an individual looking to spruce up a personal project, Canva provides the tools and resources to bring your vision to life.
Why You Need Canva Premium (Canva Pro)
While the basic version of Canva offers a plethora of features, Canva Pro, its premium counterpart, takes things up a notch. With Canva Pro, users get access to a vast library of premium templates, images, and fonts.
It offers features like the Magic Resize, which instantly adapts your design to various formats, and Brand Kit, which lets you save your brand's colors, fonts, and logos.
These features can be invaluable for those looking to maintain brand consistency and save time.
There is also a new feature which is text to image generation. This helps people to find more creativity on their design without stocking any stock image websites.
How to Get Canva Pro for Free
Now, onto the main event: getting Canva Pro without the price tag.
Free Trial:
Canva offers a 30-day free trial for its Pro version. To access it:
Sign up or log in to Canva.
Navigate to the "Try Canva Pro" option.
Enter your credit card details. (Remember to set a reminder to cancel before the trial ends if you decide not to continue.)
Education Mail Sign-Up:
Canva believes in empowering students and educators. If you have an education email address (typically ending in .edu), you might be eligible for a free Canva Pro account.
Visit Canva's Education page.
You will need an education mail
Apply for the free Canva Pro access for educators and students.
Once approved, you'll have all the premium features at your fingertips.
Visual content is a cornerstone of effective digital communication. Tools like Canva, especially its Pro version, make the creation process seamless.
And with options to access Canva Pro for free, quality design has never been more accessible. Whether you're a student, an educator, or someone testing the waters, Canva Pro's premium features can elevate your design game.
FAQ
What is Canva?

Canva is an online design platform that allows users to create a variety of graphics, from social media posts to presentations, without the need for advanced design skills.

How is Canva Pro different from the free version of Canva?

Canva Pro offers premium features such as access to a vast library of templates, images, and fonts, the Magic Resize tool, and the Brand Kit. It's designed for users who need advanced design capabilities.

How long is the Canva Pro free trial?

Canva Pro offers a 30-day free trial for new users.

Do I need to provide credit card details for the free trial?

Yes, you'll need to enter credit card details to access the Canva Pro free trial. However, you won't be charged if you cancel before the trial period ends.

How can students and educators get Canva Pro for free?

Students and educators with an education email address (typically ending in .edu) can apply for free Canva Pro access through Canva's Education page.

Are there any limitations to the educational access of Canva Pro?

The educational access offers all the features of Canva Pro. However, it's essential to check Canva's terms to ensure you meet the eligibility criteria.

How much does Canva Pro cost after the free trial?

Pricing for Canva Pro can vary based on region and any ongoing promotions. It's best to check Canva's official website for the most up-to-date pricing.

Are there any alternatives to Canva?

Yes, there are several alternatives to Canva, including Adobe Spark, Crello, and Piktochart.

Can I collaborate with others on a design in Canva?

Yes, Canva allows users to collaborate on designs. You can share a link to your design and work on it with others in real-time.

Is Canva available as a mobile app?
Yes, Canva offers a mobile app available for both Android and iOS devices, allowing users to design on-the-go.
In the ever-evolving landscape of digital design, tools like Canva have emerged as game-changers, democratizing the design process for both novices and professionals.
With its intuitive interface and a plethora of features, Canva has become an indispensable tool for many. The added benefits of Canva Pro, especially when accessible for free through trials or educational offers, further enhance its appeal.
Whether you're crafting a presentation, designing social media graphics, or simply exploring your creative side, Canva offers a platform that caters to all.
As with any tool, it's essential to explore, experiment, and determine how it best fits into your workflow. With the information provided, we hope you're better equipped to harness the full potential of Canva and elevate your design endeavors.