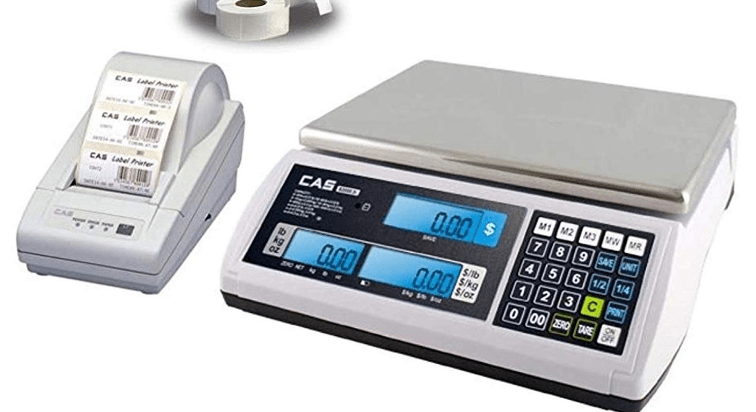 A label printer is a type of printer that prints on self-adhesive labels or tags. It is often used in the retail, manufacturing, and shipping industries to quickly and accurately print product labels, barcodes, shipping labels, and other types of labels. Label printers are available in a wide variety of sizes, printing capabilities, and speeds, and can be used with a variety of different label materials. They are also often used for printing customized labels for shipping, marketing, and other applications. Label printers are designed to be reliable, efficient, and easy to use, making them an ideal choice for a variety of labeling needs.
Label printer scale uses direct thermal printing technology to produce the content both customers and cashiers rely on. It has a built-in thermal print head that applies heat on the surface of special, chemically treated labels. This technology removes the need to use ink, toner, or ribbons. Unlike a conventional printer, scale label printers also have fewer parts that need replacing and this also requires less maintenance making it possible for users to have faster processing and more efficient operations. The only thing users need to store are the thermal scale labels themselves and make sure they don't run out of those.
Label printer scale offers so many advantages that it is only understandable why most wholesale retailers have already traded their current scales with the extremely efficient, highly reliable and cost-effective thermal printing technology. Label scale printer is extremely flexible which makes it very easy to integrate with other types of labeling and printing solutions already being used by retail businesses.
Every retailer understands what it is like when there is a huge amount of work that must be done or a long line of clients waiting to check out and the flow of work is interrupted suddenly by a receipt or label printer that malfunctions or just stop working all of sudden. The good thing about a label printer scale is it requires less maintenance. Even employees can easily know how to get the label scale printer back online if it gets jammed or needs simple troubleshooting. No need for an expensive technician to resolve the situation.
Among the widely used label printer scale is the CAS CL5000R-30 Label Printing Scale. This model is designed to accommodate various die cuts up to 120mm. This also has 50 built-in label formats and an additional 20 presets can be installed using the CL-Works software program. This software is compatible with Microsoft Windows 2000/XP/Vista/7 and enables users to create their own custom-designed labels and custom keyboard layouts. The CAS CL5000H-60 Label Printing Scale is also the same in feature as the CAS CL5000R-30 but this one has a hanging weighing pan instead.
Regardless of the model you choose, the label printer scale has certainly provided a streamlined solution for retailers for easy labeling and printing of their products. A more cost-effective and reliable label printing offers a better opportunity for augmenting the retail business.