Hi Nanna Teaser – Lovely Teaser of 'Hi Nanna' Unveiled to Rave Anticipation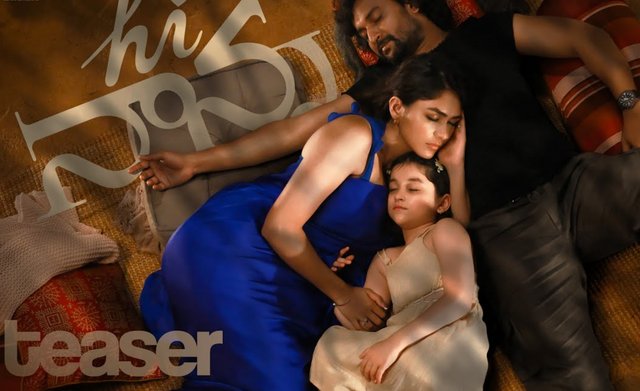 Hi Nanna Teaser – In a riveting unveil, the teaser of Natural Star Nani's upcoming flick, 'Hi Nanna', has left audiences spellbound. This much-anticipated film, under the adept direction of debutant Shouryuv, showcases an intricate blend of emotions intertwined with a compelling narrative. The teaser was released online, amplifying the buzz around the film which is already celebrated for its distinctive poster designs.
The brief yet captivating teaser introduces us to Nani, portraying a doting father to his daughter Mahi, enacted by Baby Kiara Khanna. The plot thickens as Mrunal Thakur's character, Yashna, enters the narrative, forming a love interest for Nani. However, the entanglement of emotions intensifies as it's revealed that Yashna is already committed elsewhere, which in turn, ignites a spark of anger in Nani. The unveiling of these complex relationships sets the stage for a captivating drama waiting to be unfolded on the big screen.
Director Shouryuv, despite being a newcomer, has evidently handled this complex script with remarkable finesse, balancing the tender father-daughter bond with the blossoming yet tumultuous love story between Nani and Mrunal. The teaser has indeed highlighted the palpable chemistry among the lead characters, promising a heartfelt drama that resonates with viewers.
The film, set to grace cinemas on December 7, 2023, across major Indian languages, also boasts a stellar supporting cast including Jayaram, Priyadarshi, and Angad Bedi, among others. Produced by Vyra Entertainments, with Hesham Abdul Wahab orchestrating the musical score, 'Hi Nanna' is definitely a cinematic venture to watch out for. As the release date approaches, the anticipation among the cinephiles continues to soar.
Stay tuned for more updates on this engaging cinematic journey that explores the realms of love, commitment, and familial bonds in a tale that's as heartwarming as it is heart-wrenching.
Credits:
| Position | Name |
| --- | --- |
| Editor | Praveen Antony |
| Production Designer | Avinash Kolla |
| Director of Photography (DOP) | Sanu John Varghese Isc |
| Music Composer | Hesham Abdul Wahab |
| Producers | Mohan Cherukuri (cvm), Dr. Vijender Reddy Teegala |
| Sound Mixing | Suren. G |
| VFX Supervisor | Arun Pawar |
| Colorist | S.Raghunath Varma |
| Chief Operating Officer (COO) | Paruchuri Koti |
| Costume Designers | Sheetal Sharma, Lakshmi Kilari |
| Executive Producer | Evv Satish |
| Choreographers | Bosco Martis, Viswa Raghu |
| Director | Shouryuv |
| Line Producers | Prashant Mandava, Abhilash Mandhadhpu |
| Digital Intermediate (DI) | Annapurna |
| Stunt Coordinators | Vijay, Pruthvi |
| Public Relations (Pro) | Vamsi-Shekar |
| Poster Design | Bharanidharan |
| Lyricists | Anantha Sriram, Krishna Kanth |
HI NANNA Official Teaser: