News Feed
Dhaka to Kolkata Bus Service, Ticket Price, Bus Schedule, Distance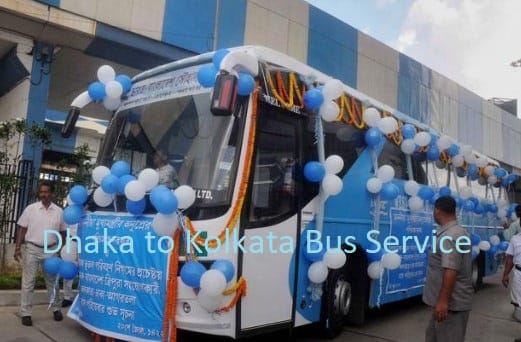 Dhaka to Kolkata Bus Service, Ticket Price, Bus Schedule, Distance & Ticket Counter information is available in this content. Currently, Many People Visit Kolkata from Dhaka on various Ways. Bus Service is popular and also cheap for Travelling from Dhaka to Kolkata. We are informing some unknown information which you may not know. How Many Buses available which Travel on the Route of Dhaka to Kolkata? How many times require to Visit Kolkata by Bus from Dhaka? What is the Ticket Price from Dhaka, Bangladesh to Kolkata, India?
Dear Visitor, We are answering these questions shortly in this Post. There are four popular Bus Services available on this Route. Greenline Paribahan, Shyamoli Paribahan, Royal Coach, Sohag Travels and Saudia Paribahan.
Dhaka to Kolkata Bus Ticket Price:
Shyamoli NR Travels (21, E Class, AC): 1900 TK
Shohagh Paribahan (1, VOLVO B9R, AC Elite Class): 1700 TK
Royal Coach (Hino, AC): 1300 TK
Shyamoli NR Travels (6, Hyundai Universe, AC): 1700 TK
Saudia Air Con (1, Hino 1J Pluss, AC): 1100 TK
Royal Coach (6, Hyundai Universe, AC): 1700 TK
How to Buy Dhaka to Kolkata Bus Ticket Online?
Shohoz.com, Busbd.com provides Online Bus Ticket for this Route. So, you can directly Visit these Websites and confirm your Ticket. For Purchasing Ticket Online of Dhaka – Koltaka Route, you need to submit your Passport Scan Copy for Verification. You can also Book or Purchase Ticket Directly from Ticket Counter of Specific Bus Operator.
How Many Times need for Dhaka to Kolkata Bus Journey?
Total 17 Hours Require from Dhaka, Bangladesh to Kolkata, India Travel by Bus. It is the Estimated time with All processes. So, you will reach Kolkata within 17 hours after Starting the Journey.
Shyamoli Paribahan Kolkata Ticket Counter:
6/1, Marquis Street
Tel: 00913339579672, 22520693
2Zakaria Street Kolkata 73
Tel: 22342995
Karunamoye, Salt Lake,
Tel: 9748090471, Mob: 0091-9748090471
Shyamoli Paribahan Dhaka Ticket Counter:
167/21 Inner Circular Road
Phone: 7193910, 7194291
Mobile: 01716-416831
You can directly call these number to Book or reserve a Ticket. We will verify and update all other Buses Ticket Counter Number and Location (Boarding Point) Very soon.